Ahasporans Call for Holistic Funding in the Ghanaian Sports Sector…
A couple months ago, Ahasporans received an email soliciting for financial help – $10,000 only – to get Ophelia Swayne and the Ghana Olympic Swim Team to Romania, for qualification in the Rio Olympics' swimming tournament.
Ophelia is 20-years-old and she is Ghana's fastest female swimmer.  Among other achievements in her career so far, she has won gold and silver medals at the 2013 Lagos International Classics in Nigeria. She is a two-time gold medal champion at the International Schwimmfest in Germany where she competed against swimmers from almost 150 clubs from all over the world. She also currently holds the Ghanaian national record for 50 meters freestyle (28.10 secs), which she achieved at the 2013 FINA World Championship in Barcelona. The list goes on… So as you can see, Ophelia is a big deal, and to top it all, she's not just swimming for herself, but for her country!
[idea]So as we read the $10,000 solicitation, we scratched our heads wondering: if tables were turned and Ophelia was Black Stars talisman Andre Ayew, would we be reading this solicitation? A very passionate argument ensued on our listserv about the Ministry of Youth and Sports commitment to athletics in Ghana, and the economic (or lack thereof) decisions that the ministry and its related agencies make, on our behalf.[/idea]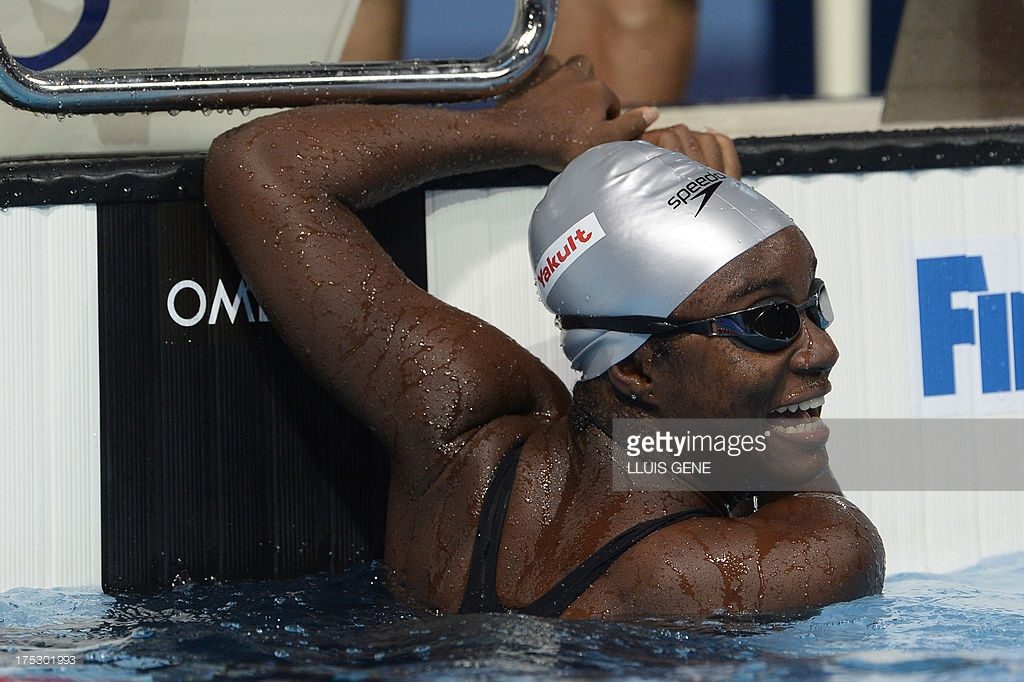 The following sums up the arguments:
Ahasporan 1: "Thanks for sharing… But it really annoys me that the Government/ Ministry of Sports can't take this on! It's very little money and they are going as representatives of Ghana! Ahasporans, please let's give, but beyond that I call on Ophelia and her team to put out a statement calling out the Sports Authorities… An angry citizen."
Ahasporan 2: "No point putting out a statement. Because the sports ministry is broke according to the sports minister. Another point to note: an amount of GH₵22,560,058.00 has been allocated. Out of this, GH₵22,318,088.00 is GoG and GH₵241,970.00 is IGF. "
Ahasporan 3: "Ghana Sports Authority is clearly not broke if they can ship huge sums of money via plane and helicopter to Brazil. Football aka soccer is the only sports that gets any attention and funding in Ghana and it's very annoying."
Ahasporan 4: "The black stars (not Ghana football) get attention and funding because they're a cash cow."
Ahasporan 5: "Football is not the only sport that can bring in a huge return on investment. In fact every sport can. So whatever the government claims they get back from the Black Stars (as if they are unique), I am yet to see. In fact, I wonder if with $5-10k bonuses, cars, farewell parties, welcome back parties etc., we don't just spend our FIFA earnings on the team. The players take larger bonuses than the England squad where football practically prints its own money!"
Ahasporan 6: "My issue is more with the government's budget allocation to the Ministry as 95% is still spent on football and football-related activities. We just built a new sports stadium in Cape Coast and they can't support a few athletes to the Olympic games… this is such a shame."
At this point, the discussion turns away a bit from sports to the larger issue of the Government's funding decisions.
Ahasporan 7: "The U.S government at the height of the Iraq war spent about 40% of its annual budget on salaries mostly on the military. This led to a huge current account deficit and they had to borrow through the Federal Reserve to plug these deficits. Meanwhile, Ghana's government in 2014 spent 70% of the entire annual budget on public sector wage bill; that leaves 30% for everything else. What happened in 2014? Huge devaluation of the cedi because to plug such budget shortfall, they printed more money and borrowed heavily internationally and domestically. The more money spent on salaries, the less for investment in the youth and various sports activities. Just not to veer of course: this is not the Police, GRA or Military where human capital adds value, so I am perplexed as to why the Ministry of Sports will spend so much on salaries because 50% is too high…"
…How did this all end?
We are football fans and Black Stars lovers, just as we are Ghana lovers through and through! Don't get us wrong. The point here is that the Sports Ministry's priorities and budget allocation should be revisited for various sports disciplines, aside soccer, to get attention.
[idea]We are not asking for parity, we get it – football has brought international investments in ways other sporting disciplines haven't. Our projection, however, is that athletics, swimming, tennis, and the rest could also transform into cash cows if we invest in them properly. For areas where there are gaps in funding, the Government could even play a facilitation role to attract the private sector to get involved.[/idea]
So what happened to Ophelia?
[idea]When Ophelia's effective campaign hit 100%, we were informed that a large number of donors are members of Ahaspora, estimated at almost 60% of the donations![/idea]
As an organization, we are proud that we didn't only DEBATE THE ISSUES, BUT WE ALSO ACTED! Congratulations to Ophelia who made it 7th in Romania. Although she didn't make it to Rio this time, we know her future is bright and entreat the Government to redo their economic analysis on all things related to sports in Ghana. Go Ophelia!
Join Ahaspora Young Professionals for more invigorating discussions on social issues, and even more action to bring about solutions that are within our power…
You may comment directly using the comment section below  or send any inquiries to info@ahaspora.com